Free Eye Camp at Distt. Hospital, Badin, Sindh Pakistan
NWO organized a one-day free eye camp on January 9, 2010. Not only was every patient diagnosed, treated and provided with medication, but they were also operated upon, free of cost. People of all ages, including women, children and men benefited from this camp. Children were able to see their mothers clearly and vision was restored to jobless youths, thus enabling them to become earning members of their families. The elderly were helped to live happily and independently.
In the camp we helped to retrieve the colors of life! "Yes, I can see clearly now," this was the spontaneous response of a 65 year old Bachlan whose vision was restored after a successful operation. Bachlan belongs to an isolated area of District Badin where eye-related diseases are on the rise with the basic health amenities unavailable in the immediate vicinity. Bachlan's family, being poor was unable to bear the expenses of the surgery at any hospital in the nearby town of Badin.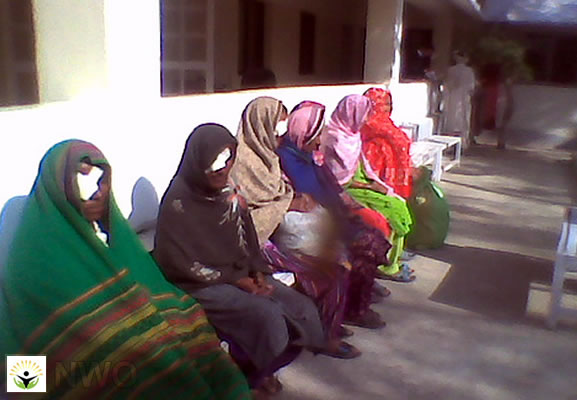 Having a dim hope of restoring her sight, Bachlan hearing the announcement of Free Eye Camp came here on January 9, 2010. A team of expert doctors diagnosed Bachlan with cataract. The team conducted a successful operation and vision was restored in her right eye. Regaining the ability to witness the beauty of nature has always been utmost desire of a man. Bringing eye-site back to marginalized and hopeless people of rural areas of Sindh province of Pakistan and winning happiness for them was a pleasant and superior experience. Their dream of seeing things clearly and neatly came true through the efforts NWO took, and of course, the helping hand extended by LRBT(Layton Rahmatullah Benevolent Trust) and donation served by Hazrat Sultan Aulya Founcation, Jamaat Luari Sharif.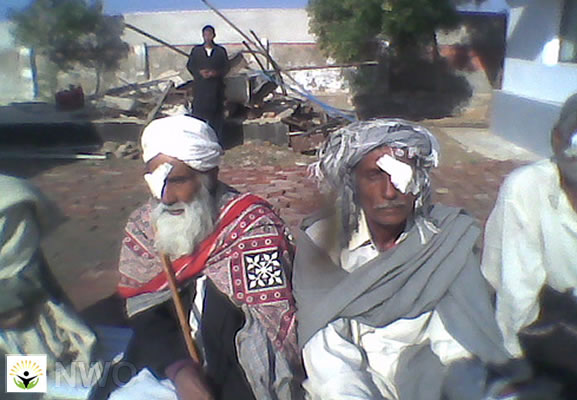 It was another milestone achieved by a dedicated team of NWO members under NWO Health Programme. Volunteers from Najia Shagird Tanzeem (both boys and girls wings), Managing Committee Jamaat Luari Sharif, and district government Badin also played role on their part and shared responsibilities in the arrangement of the camp. District Hospital, Badin facilitated the camp with logistics support. NWO Health Programme aims at providing high quality health services to patients of marginalized rural areas of Pakistan. Through this programme, NWO has provided relief to over 3000 patients of different ailments, covering eye diseases, skin diseases and various general illnesses in a very short span of just 2 years. The deprived and overlooked residents of District Badin in regards to health and education, immensely need an eye of philanthropy. Realizing the fear and desperation of locals, NWO has put in serious efforts to eradicate the increasing menace of poor health conditions.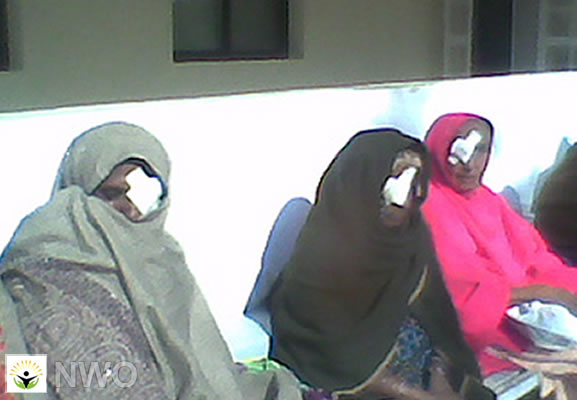 Over 450 other patients turned up, amongst which the majority was of elderly people like Bachlan. Eye disorder among elderly is a major health problem. With advancing age, the normal function of eye tissues decrease, increasing the incidence of ocular pathology. The most common causes of eye impairment found in the camp included presbyopia, cataracts, renitis pigmentosa, retinopathy, age related macular degeneration, primary open angle glaucoma and diabetic retinopathy. Eye specialists performed 70 surgeries (resulting in a 100% success rate), from minor to major, including Phacoemulsification (stitch-less surgery) for cataract, iLasik for removal of glasses, Corneal Transplantation, Vitreo Retinal surgery, Squint surgery and Glaucoma surgery. NWO also facilitated patients who did not require any surgery with provision of free of cost eye drops, creams and other medicine. The most advanced diagnostic and therapeutic instruments in eye care were used. Dr. Nasir Hussain Ansar and Dr. Mamtaz Memon from LRBT (Layton Rahmatulla Benevolent Trust) rendered their highly skilled expertise in helping patients through superior eye treatment. In this camp, hundreds of patients from various areas of District Badin availed free facilities of eye checkups and surgeries. The patients were from Luari Sharif, Tarai, Talhar, Ghotki etc. Mr. Sikandar Ali Mandhro, MPA, Sindh Assembly, inaugurated the camp while Mr. Sikandar Khan Jamali, General Manager Estate of Luari Sharif was the guest of honour, who presented a donation of Rs. 75,000 for the camp from Pir Muhamamd Sadiq, Pir of Luari Sharif. Other dignitaries of the local community also participated in the opening ceremony of the camp. In providing first class eye screening, medication and surgical facilities to the poor and needy of the area, the NWO also gathered required data regarding common diseases prevailing in the targeted population. LRBT Tando Bhago stood shoulder to shoulder with NWO by providing technical support, through eye specialists, nurses and paramedic staff. Operational expense of this camp was completely borne by NWO.