NWO disaster management cell provided relief to cyclone effected people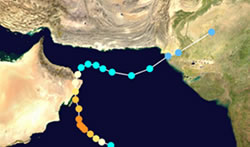 As Cyclone Phet, a powerful tropical storm approached Pakistan after lashing Oman's coastline on June 4, 2010, leaving approximately 2 dozen dead and damages exceeding $780 million, Nishat Welfare Organization's newly dubbed Disaster Management Cell drew out an action plan to help minimize the potential loss of life, and to provide relief to the victims of the areas forecast to be hit the worst, namely Thatta and Badin. The cyclone made landfall in Pakistan on June 6, 2010.
The Rapid Response Plan included informing citizens both via text messages and by word of mouth of an upcoming threat and how to respond to it, rushing NWO volunteers to the affected areas to assist with the evacuation of citizens and establishing a relief camp.
NWO logistics teams were rushed to various localities of District Badin to assess the situation and provided rapid relief, including evacuating the locals to a relief camp established in Government Primary School, Village Pir Muhammad Sadiq.
Approximately 800 citizens were evacuated by NWO volunteers to the relief camp in GPS Village Pir Muhammad Sadiq. Food and clean water was provided to the people, as well as blankets, mosquito nets, soaps and dental care items. Besides the 25 trained volunteers, the relief camp had 2 doctors and three nurses on call with necessary medicine and first aid materials on hand in case of emergency.
NWO's head office in Hyderabad and NWO Karachi were in contact with The NWO Disaster Management Cell 24 hours a day since June 4, to stay up to date about the situation in the affected areas.