6 Schools Adopted in Badin area under Adopt-A-School Program
16th March 2010 - Tuesday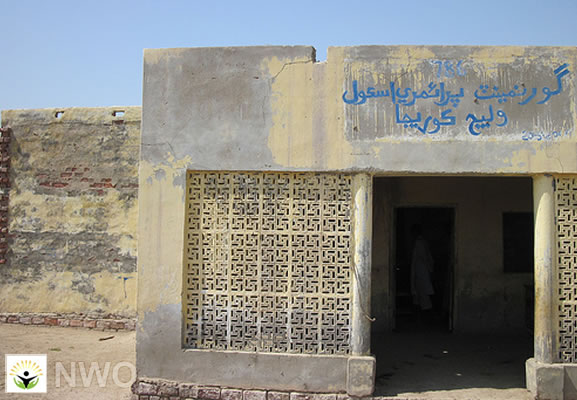 Sindh is Pakistan's second largest province in terms of both population & economic output but performs poorly across a range of socioeconomic indicators, education being no exception. Enrollment rate in primary schooling has improved in Sindh but remains lower than the national rate. The main reasons for the substandard educational system in Sindh are poverty, absence of safe school structure, lack of basic facilities and unavailability of professional staff (Teaching & Non-teaching).
NWO strongly believes that quality education improves people's world view and their sense of collective living. In order to achieve this we aim at improving the quality of education at the primary level under the NWO School Adoption Project.
We surveyed 8 schools of rural areas of Sindh where basic facilities for students were not available and a report was submitted to Sindh Education Foundation (SEF) for adoption of these schools. On 16th March, 2010, we were awarded with 6 schools of rural areas of Badin under SEF's Adopt-A-School Program (AASP) to take under our care. These are:
Govt. Primary School at Village Pir Muhammad Sadiq, Luari Sharif II, District Badin
Govt. Primary School at Khan Sahib Abdul Rehman, District Badin
Govt. Girls Primary School at Khan Sahib Abdul Rehman, District Badin
Govt. Primary School at Amir Bux Korejo, District Badin
Govt. Primary School at Roshanabad, District Badin
Govt. Primary School at Banho Korejo, District Badin
An in-depth study of these schools revealed a myriad of alarming facts. For one, even though in some areas the percentage of children not enrolled in schools is relatively low, in others it is as high as 50%. Even more alarming is the dropout ratio at the advance level classes - around 75%.
In most of the schools there is a shortage of teaching staff. The teachers are untrained and most of them are unwilling to impart education and are habitual to remain absent from duty through self granted leave.
Besides that, the ground realities are very bitter as far as basic structure of the schools is concerned. Only 2 schools, GPS Luari Sharif & GES Khan Sahib Abdur Rehman, have proper class rooms and building structure. GPS Amir Bux Korejo & Banho Korejo have only 2 rooms each with damaged roofs and walls which pose a dangerous threat for students. The remaining 2 schools, GGPS Khan Sahib Abdur Rehman & GPS Roshanabad, have no concrete structure. These schools are running in Jhugis (Huts) constructed by villagers. In addition, unfortunately all the schools are without boundary walls except GPS Luari Sharif II which has been properly constructed.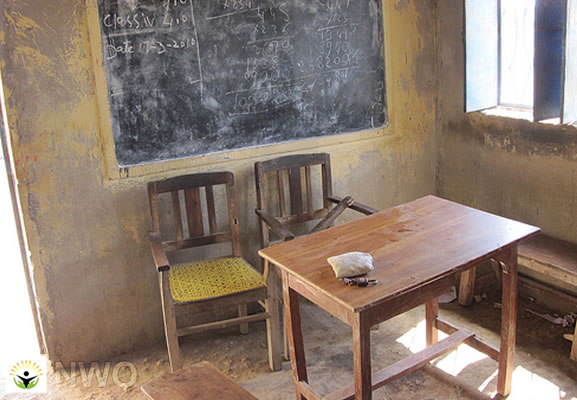 In all the schools furniture and fixtures are insufficient and those that are present are in dire need of repair or replacement. All the schools suffer from pitiable sanitary conditions. They do not have any clean drinking water facility, water coolers, toilets, or electricity to bear the scorching hot weather.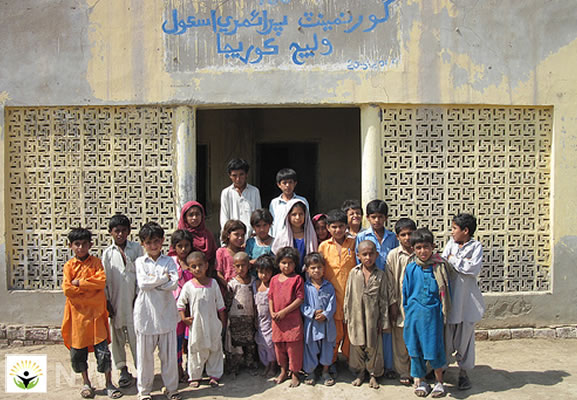 It goes without saying the environment in all the schools is neither attractive nor healthy for physical and mental growth of the students. We at NWO, by taking under our wing these 6 schools, aim to reverse the prevalent situation. Our foremost goal is to provide safe school structure with basic facilities and proper seating arrangements, trained and professional teaching staff as well as free books and necessary study materials for children. Our particular emphasis will remain on increasing the female literacy ratio and promoting gender equality in education. In addition we will be organizing workshops for parents and teachers to create awareness of the importance of literacy and summer camps for children to develop the right association towards learning.