First - Free Medical Camp at
Village Pir Muhammad Sadiq, District Badin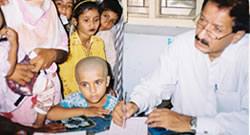 From the platform of the Nishat Welfare Organization (NWO)® this was the first Free Medical Camp organized in Village Pir Muhammad Sadiq, Luari Sharif, District Badin, under the NWO Health Programme, with the sole motive of providing appropriate medical help and guidance to underprivileged people of the area.
View all images »
A panel of qualified doctors from Hyderabad, Karachi and Badin supplemented our efforts.
They included: Dr. Khuda Bux Talpur (Badin), Dr. Mohammad Hanif Memon (Badin), Dr. Zahoor Abbasi (Badin), Dr. Mushtaq Junejo (Karachi), Dr. Hussain Korejo (Karchi), Dr. Abdul Qadir (Hyderabad), Dr. Rizwan (Badin).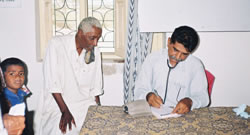 Treatment Features: The camp was organized with the motive of providing first-hand free medical treatment and free medication to the poor. Around 800 patients were treated during the day. Nearly 80 per cent of the patients were found complaining of skin diseases—mostly scabies—besides general diseases like flue, malaria, chest infections, gynecological problems, etc.
Collaborating Agencies: The Najia Shagird Tanzeem (NST) provided 20 of its volunteers, who participated enthusiastically during the event and proved useful in making the camp a success. The District Government, Badin, provided medicines and hospital accommodation. The EDO Health District Badin, Mr. Abdul Sattar Channa, performed the inauguration ceremony.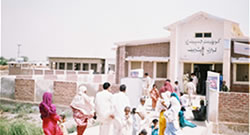 Conclusion: All the patients were managed with free treatment and medication. Building a healthy relationship between government functionaries, various NGOs and volunteer doctors,
the camp greatly helped NWO establish itself as a prominent welfare organization doing humanitarian work.